Teaching buildings focusing on preferences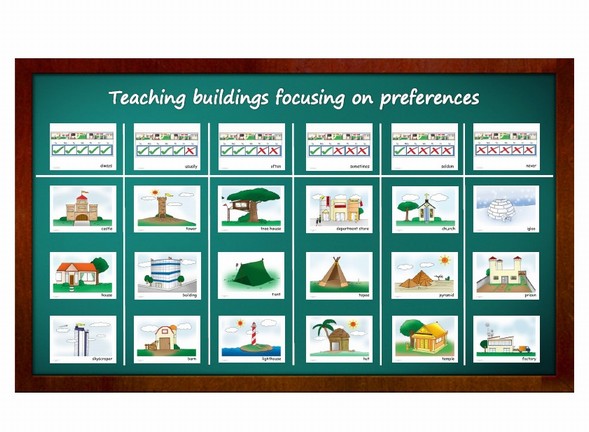 Target Group:
Pre-Intermediate Level
Material:
Building flashcards (additional adverbs of frequency flashcards)
Vocabulary:
barn, building, castle, church, department store, factory, house, hut, igloo, lighthouse, prison, pyramid, skyscraper, tepee, temple, tent, tower, tree house
Process:
Introduce building vocabulary to students and ask random questions: Where do you want to live? Why do you want to live there? What is nice about living there? e.g.. Create together with students a table, focusing on adverbs of frequencies, where they want to live. You can also do this exercise in pair work or small groups.
You can also draw a simple road map on the board to practice map reading. Stick buildings onto the map and ask students questions. Where is the factory? The factory is next to the prison e.g.. (using prepositions)
Skills:
Buildings vocabulary; spelling; word-picture association; word-picture recognition; sentence structure; grammar; reading; conjunctions; verbs; describing places and locations; asking questions; prepositions; giving directions
Game Idea:
Pictionary - Have a student come up to the front and show them a flashcard. That student draws the picture on the board. The first student to guess the word gets a point. The can also be played in teams.