Teaching nationalities - What is typical for a nation?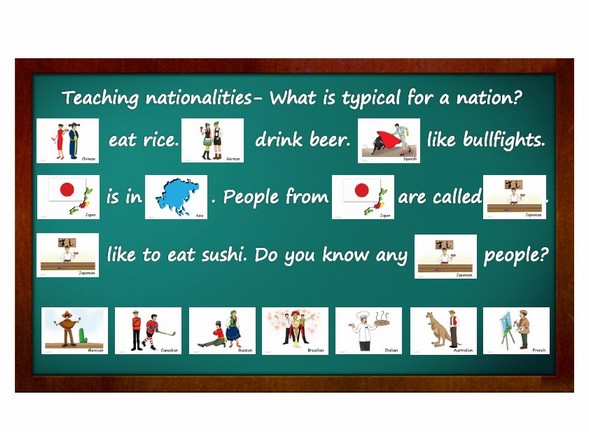 Target Group:
Pre-Intermediate Level
Material:
Nationality flashcards (additional country and flag flashcards or adverbs of frequencies)
Vocabulary:
Argentine, Australian, Brazilian, Canadian, Chinese, French, German, Greenlander, Italian, Japanese, Kenyan, Libyan, Malaysian, Mexican, Namibian, Nigerian, New Zealander, Peruvian, Russian, South African, Spanish, Thai, American, British, Venezuelan
Process:
Introduce nationalities and ask students questions. How people are different? What do Chinese people eat? What do Japanese people eat? You also can ask questions like: Have you ever been to Thailand? What are Thai people like? How do they say "Hello"? You can also ask about differences between two nationalities or countries, what they like and dislike, polite and impolite, weather, food, sports, animals e.g..
Note: Each nationality flashcard has a matching country flashcard. On each card is at least one thing that is typical for that nation or country.
Skills:
Nationalities, countries, flags; capitals and continents; geography; cultures; spelling; word-picture association; word-picture recognition; sentence structure; grammar; reading; describing countries; asking questions; country-culture association
Game Idea:
Flashcard Act Out- Similar to charades or miming, choose one or more students to come to the front. Show a flash card and have the students act the nationality. Reward the first student to guess the correct answer. This can be used with many subjects like sports, actions, phrasal verbs e.g..