Teaching transportation with verbs and "can" questions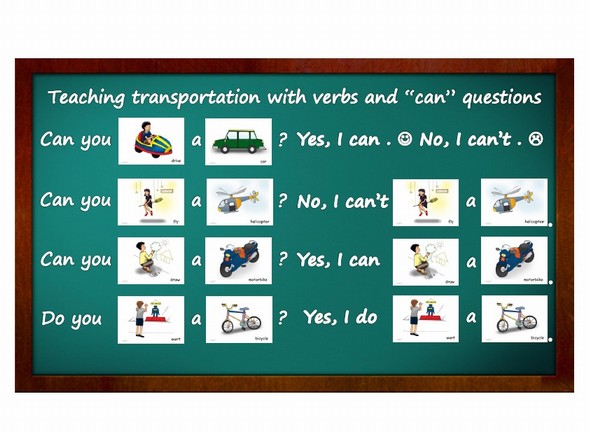 Target Group:
Beginner Level
Material:
Transportation flashcards and some verb flashcards
Vocabulary:
ambulance, hot-air balloon, bicycle, boat, bus, car, ferry, helicopter, jeep, lorry, motorbike, plane, police car, rocket, ship, elevated railway, train, underground, minibus
Process:
Introduce transportation vocabulary to students first. After students have learned transportation vocabulary you can ask random questions such as: Can you drive a car? Can you fly a plane? Do you like to fly a helicopter? Do you want a motorbike? e.g..
Students should answer "Yes, I can …. ", when they can do the action or "No. I cannot ….", when they cannot do the action.
Skills:
Transportation vocabulary; spelling; numbers; colours; sentence structure; word-picture association; word-picture recognition; early reading; singular and plural; conjunction, favourites
Game Idea:
Round and Round - Small groups of students sit in a circle (I like boy girl boy girl). Students pass flashcards around a circle face down. When the music stops or the teacher says OK, students turn their card over. The students get then to say their word in a sentence.