Teaching phrasal verbs 1 using daily life situations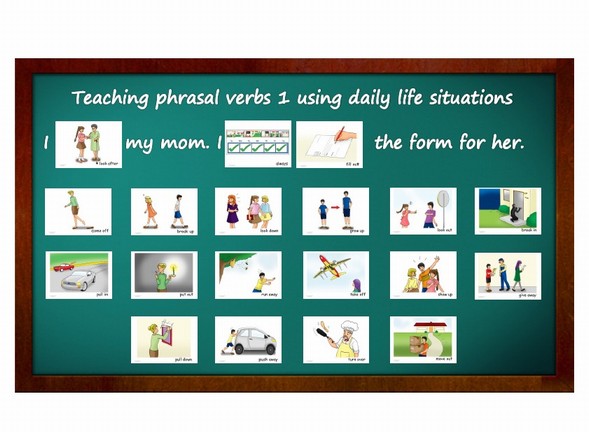 Target Group:
Pre-Intermediate Level
Material:
Phrasal Verb 1 flashcards (additional adverbs of frequency flashcards)
Vocabulary:
break in, move out, pull in, give away, grow up, come off, break up, look down, fill out, look out, look after, put out, run away, take off, show up, pull down, push away, turn over

Process:
Introduce phrasal verb vocabulary to students. Ask random questions: Who looks after your grandmother? Who looks down on you? Why did you break up with your girlfriend? e.g.. Students have to create their own sentences and present them to the class. You can also use phrasal verbs to teach tenses: What did you give away for free? Do you know who broke into your house? e.g..
Note: A phrasal verb is a combination of a verb and a preposition, a verb and an adverb, or a verb with both an adverb and a preposition.
Skills:
Verbs; prepositions; adverbs; conjunctions; grammar; sentence structure; word-picture association; word-picture recognition; asking questions; adverbs of frequency
Game Idea:
Call out – Divide the class into two teams. Hand out a marker to each team. Call out a phrasal verb and the first student lined up from each team has to run to the board and write a sentence onto the board using that phrasal verb. For example: "Look out". Students should write small sentences like: Look out for the car. Look out for the motorcycle. Look out for the tree. e.g.. Fastest team gets a point.