Teaching time by creating a questionaire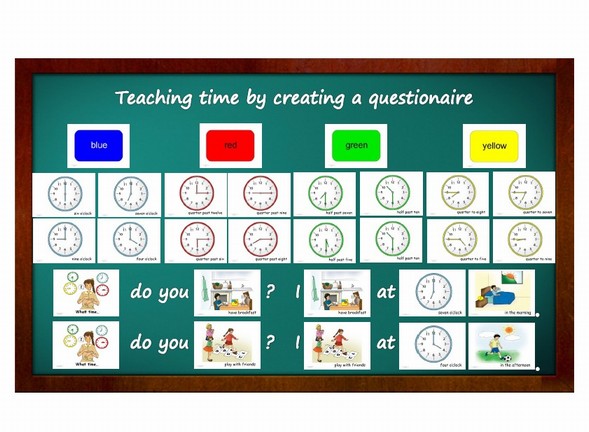 Target Group:
Elementary Level
Material:
Telling time flashcards

Vocabulary:
four o'clock, six o'clock, seven o'clock, eight o'clock, nine o'clock, twelve o'clock, half past five, half past six, half past seven, half past eight, half past ten, in the morning, in the afternoon, in the evening, quarter past six, quarter past seven, quarter past eight, quarter past nine, quarter past twelve, quarter to five, quarter to seven, quarter to eight, quarter to nine
Process:
Introduce time vocabulary to students. Let students divide the time flashcards on the board according to the right colours. Ask questions using pre-learned vocabulary: What time do you get up? What time do you go to bed? e.g. Draw a clock without hands on the board. Students have to draw the correct hands into the clock. You can also draw two clocks without hands and let students race to draw the correct time.
For more advanced students create a questionnaire. Students must interview each other

Skills:
Telling time; reading clocks; spelling; reading; sentence structure; places to go; asking questions; daily schedules and routines
Game Idea:
Race to Touch - Lay flashcards on the floor at one end of the room, and have the students line up in teams at the other end of the room. Call out a flashcard and have the first person in each team race to grab the card. Those students then go to the back and the next students race to grab the next flashcard the teacher calls.