Teaching possessive and demonstrative pronouns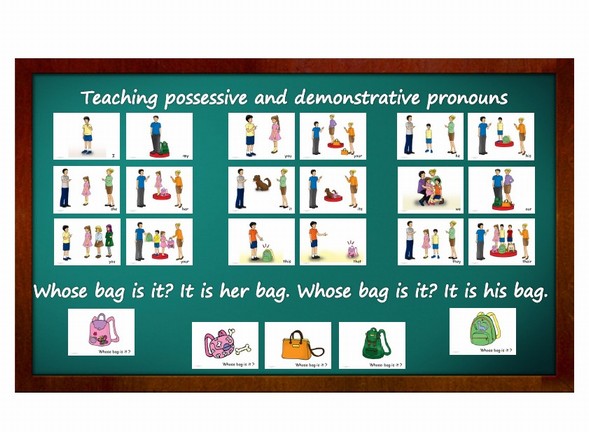 Target Group:
Elementary Level
Material:
Pronoun, possessive pronoun and demonstrative pronoun flashcards

Vocabulary:
I - my, you (singular) - your, he - his, she - her, it - its, we - our, you (plural) - your, they - their, this - that, these - those, Whose bag is it?
Process:
Make sure students know the basic pronouns first. Introduce possessive pronouns to students. Students have to find for each pronoun the possessive pronoun (red platforms) and match them correctly. I-my, he-his, she-her e.g.. Stick the "Whose bag is it?" flashcards below the board. Start asking questions using the bags from the children first. Whose bag is it? Students will answer: It is his bag or it is her bag. Now hand out the "bag flashcards" to the students and ask again. Students will recognize that the ownership has changed and will now say: It is my bag, It is her bag e.g..

Skills:
Personal and progressive pronouns; spelling; word-picture association; word-picture recognition; sentence structure; grammar; reading; conjunctions; verbs; personal possessions; describing ownership
Game Idea:
Pronouns Grid - Draw a matrix or grid on the board (5x4 squares) and number your axis A to E on the top scale and 1to 4 beside the squares created; you end up with squares like A1, B2, C3 etc. Stick pronouns, possessive pronouns and demonstrative pronouns mixed up front to back onto the board. Students have to find and remember the correct matching squares. Team who gets the most pronoun combination pairs wins (like memory game).