Teaching daily routines using time vocabulary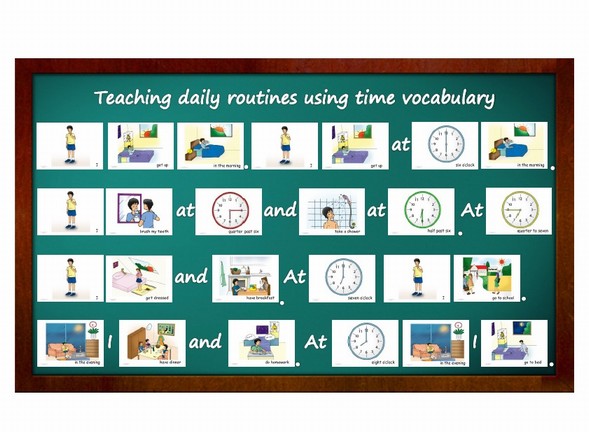 Target Group:
Elementary Level
Material:
Daily routines and telling time flashcards
Vocabulary:
brush my teeth, comb my hair, do exercise, do homework, have breakfast, have lunch, have dinner, get dressed, get up, go to bed, go to school, listen to music, make the bed, play guitar, take a shower, take a nap, play with friends, wash my hair

Process:
Introduce daily routine vocabulary first. As an example create a picture story together with students. After students have to create their own daily routines in writing or working in small groups.
Skills:
Daily routines vocabulary; spelling; word-picture association; word-picture recognition; sentence structure; reading; conjunctions; asking questions; telling time; daily schedules; pronouns
Game Idea:
Sentence Making - When using flashcards, remember to always try to make an interactive story line where the characters are doing or showing or seeing the words. Then, try to always expand the vocabulary learning by adding to the story line. ,e.g., I get up at 6:00 in the morning….so the students will see flashcards I/ get up/ 6:00/in the morning, the word 'at' will be written in front of the flashcards, so students will understand where and when we place grammar to make a sentence.