Teaching bathroom vocabulary using "Daily Routines"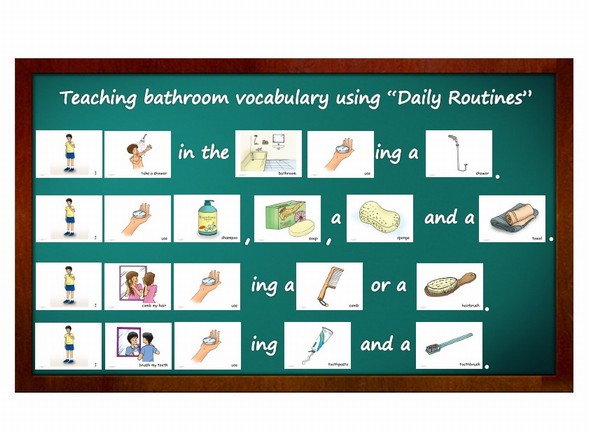 Target Group:
Elementary Level
Material:
Bathroom and daily routines flashcards (additional Telling Time flashcards)
Vocabulary:
laundry basket, bathtub, hairbrush, comb, bath mat, hair drier, razor, scale, shampoo, shower, sink, soap, sponge, tap, toilet paper, toilet, toothbrush, toothpaste, towel rack, towel
Daily Routines - take a shower, take a bath, comb my hair, get dressed, wash my hair, wash my face

Process:
Introduce bathroom vocabulary to students. After students have learned bathroom vocabulary create questions using daily routines vocabulary. Where do you take a shower? What do you use to take a shower? You can also introduce countable and uncountable nouns or extend your lesson by using "Telling Time" flashcards to ask what time the action happens.
Skills:
Bathroom vocabulary; spelling; word-picture association; grammar; word-picture recognition; sentence structure; reading; singular and plural; conjunctions; basic prepositions; daily routines
Game Idea:
Pictionary - Have a student come up to the front and show them a flashcard. That student draws the picture on the board. The first student to guess the word gets a point. The can also be played in teams.